TOWER WAREHOUSE WITH ROBOT
FOR SERVICING CNC MACHINES
Robofeed A is a family of robotic cells for the loading/unloading of unstackable workpieces and small/medium sized shafts.
Available with drawers that can be completely extracted from the island and interchanged or fixed, with double bay, integrated in the structure.
Immediate monitoring of production progress thanks to LED indicators on the machine side.
Quick installation and configuration, as well as its compact size allow it to integrate perfectly into the workshop
Compact plug & play robotic solutions
The most compact plug & play robotic solutions for servicing CNC machines
The Assis-tec research and development department has developed an effective fully automated solution for the enslavement of machine tools. Fanuc efficiency and reliability is the basis of our Robofeed machines.
The robot has a minimum footprint of 1.3 square meters of floor space and offers an operational availability of up to 24 drawers.
Through the combination of multiple robots in charge of the different stages of the production process,it is possible to improve the degree of automation of the entire production line.
With fixed or removable drawer
(*indicative data to be verified according to the model selected)
ANTI-TILT EXTENDABLE DRAWER UNIT
Type of warehouse

Movimentabile con transpallet

Number of drawers*

Ad estrazione totale lato robot

Number of drawers*

Massimo 16

Single drawer size

600X600 mm

Usable drawer height*

variabile in base al nr cassetti

Single drawer capacity*

50 Kg

Storage surface

variabile in base al nr cassetti

FANUC M10 iD/12

da 12 kg al polso e sbraccio 1441 mm

FANUC M20 iD/25

da 25 kg al polso e sbraccio 1831 mm

Total weight*

1000 Kg (escluso cassettiera)

Dimensions (LxPxH)

155X108X222 cm

jaws and optional excluded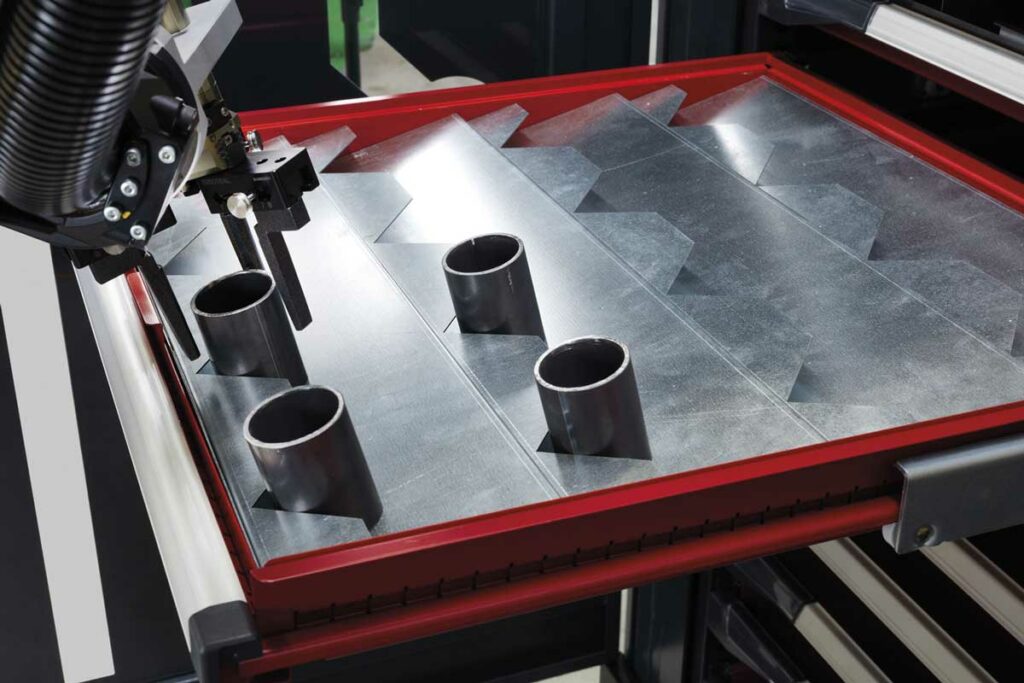 INVEST IN MACHINE TOOL AUTOMATION AND FIND OUT HOW MUCH YOU REALLY SAVE!
Assistec and ROI-Calculator by FANUC help you calculate an accurate estimate of the return on investment for automated servicing robots.