What does Cobot mean and what is its added value in the world of metalworking?
Today, it is only fitting to talk about cobots and provide comprehensive insights into their role within the context of industrial innovation, one of the main topics that will be discussed at the EMO trade fair in Hanover scheduled for mid-September.
Index
What does Cobot mean?
What is the difference between Cobots and Robots?
What are the benefits of Cobots?
What are the future applications of Cobots?

What are Cobots or Collaborative Robots?
Partiamo dal principio e definiamo il concetto di cobot che è l'acronimo di collaborative robot, ovvero robot collaborativo, ed è "un robot concepito per interagire fisicamente con l'uomo in uno spazio di lavoro" senza la necessità di inserire delle barriere di protezione. By interacting directly with humans and simulating human movements, the collaborative robot becomes a true "extension of the human arm" supporting operators in achieving goals.
There has been increasing discussion about cobots in recent years as there is still a lot of scepticism among entrepreneurs and a lack of awareness about their potential in terms of work, production and turnover. Incorporating cobots into the machining process necessitates a cultural revolution in how operators conceive their roles alongside machine tools.

What is the difference between Cobots and Robots?
During our discussions with customers, it has become apparent that the distinction between Cobot and industrial Robot is not very clear. At Assistec, we want to clarify the differences between these two robotic solutions, starting with a fundamental but important consideration: the Cobot is not a classic industrial robot.
Unlike the latter, in fact, collaborative robots share the work space with human workers, reducing costs of design, maintenance, installation and implementation of safety plans. Cobots can add value to a company by improving working conditions and increasing turnover. How? By prioritising people and using collaborative robots to assist them.
If we prioritise the person and want to increase turnover, the collaborative robot should be programmed to handle all repetitive and burdensome tasks that cause stress and lack inspiration for humans. This way, operators can focus on other tasks that are useful for achieving the daily objectives and dedicate themselves to other pre-set goals.

What are the benefits of Cobots?
A detailed and explanatory diagram illustrating the main differences between the two types of robots is provided below: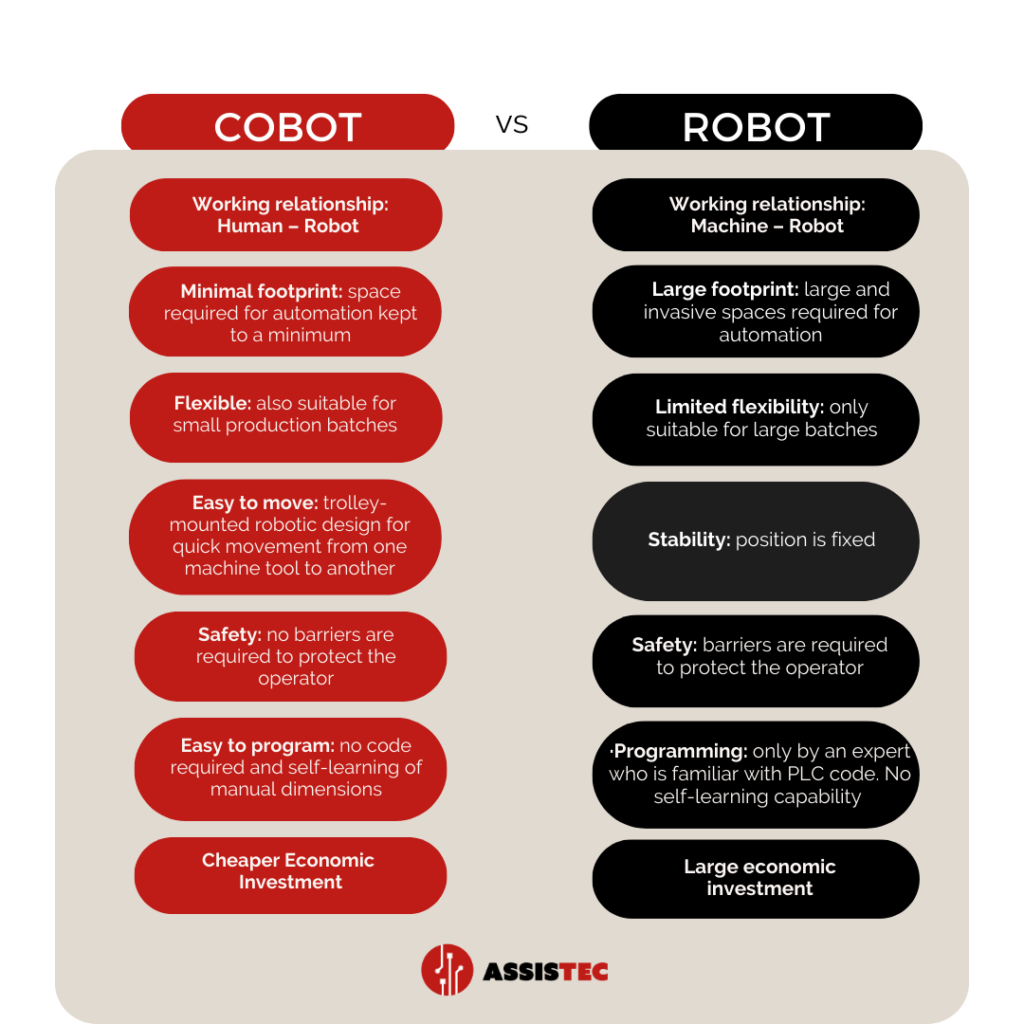 We would like to point out that both solutions can be selected based primarily on the unique needs, requirements and objectives of each individual customer.

What are the future applications of Cobots?
Cogliendo questa esigenza di mercato, all'interno della nostra gamma RoboFeed abbiamo ideato Robofeed serie C20 installando il cobot FANUC CRX su un carrello su route per poter garantire mobilità e flessibilità con un ingombro minimo. Our technical team remains consistently up to date on potential developments, particularly as discussions surrounding artificial intelligence (AI) in the workplace grow more frequent. The cultural shift is likely to result in a greater adoption of cobots in machine shops, but we must remain attentive and observe how events unfold in the months to come.
For further information regarding our C20 series, don't hesitate to contact us (link to form) or call us at 0522 989436 to schedule a meeting with our team at our headquarters in Reggio Emilia, the heart of Italy's mechanical engineering industry.